Family & Cosmetic Dentistry
Dr. Mitchell has been helping dental patients for over 20 years. We believe in treating our patients and their families in a comfortable setting and at the same time offering state of the art dentistry. We offer an array of services from cleanings and x-rays to orthodontics, all the while making sure we meet your every need. We are confident you will feel comfortable in our office, so we offer a free consultation to answer any of your questions and or concerns about your current dental health.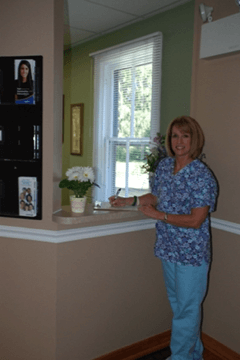 Dr. Leanne Mitchell, D.M.D.
Another excellent job by Dr. Mitchell and staff. Looking forward to seeing them in 6 months.
I absolutely loath going to the dentist because I have had so many bead experiences. So after 7 years I went to Dr Mitchell who was so kind, didn't lecture, was gentle. Restored my faith in knowing there are still good dentists out there. I recently broke a tooth was terrified to go back. I called the office was closed but she called me back within the hour and offered me an appointment along with her cell if I had any questions. When i went in she was AGAIN amazing and made me feel as comfortable as possible. SO thank you again Leanne!!!!!